museum4punkt0 links seventeen German cultural institutions nationwide for the first time in one project. Our members are heterogeneous with regard to size and institutional profile.
Cultural institutions with different profiles, sizes, organizational forms, and familiarity with digital processes collaborate intensively in the joint project. Our collections represent aspects of art, cultural and migration history, of natural history, intangible cultural heritage as well as the history of technology.
Our visitors are our focus: We are searching for new ways to enter into an exchange with and develop customized content for them, while addressing new target groups at the same time. To obtain results, we are testing deployment scenarios for modern technologies such as virtual reality, augmented reality, and 3D modeling in six sub-projects. Our findings as well as digital prototypes developed in the course of the project will be available to all cultural institutions in Germany for flexible reuse.
The joint project has been set up for three years and is funded by the Federal Government Commissioner for Culture and the Media with a total of fifteen million euros.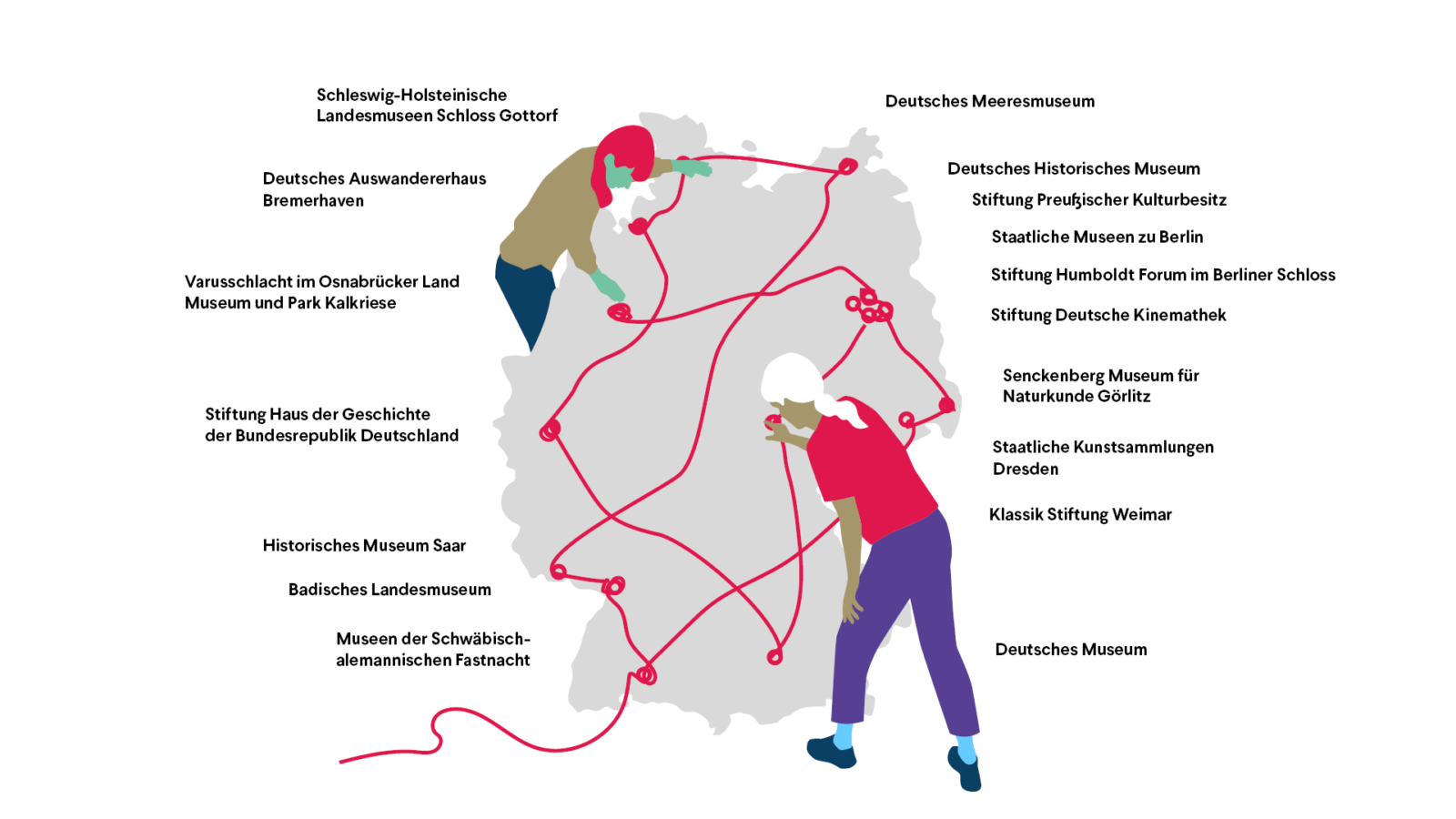 Our Goals
Accumulate technological & methodical insights
We develop, test and evaluate digital tools and applications for education, outreach, visitor interaction and participation in a variety of museum settings and infrastructures.
Design multiple access points for diverse audiences
The project seeks to enable visitors to connect and actively engage with museums and their collections and allow for a personalized museum experience. Therefore, we analyze under which conditions digital applications and formats can support these goals.
Facilitate knowledge transfer among project partners
Within the joint project, we foster a close exchange on questions regarding technological as well as structural requirements and standards for the development, implementation and maintenance of digital applications.
Share insights & project outcomes with museum professionals.
museum4punkt0 aims to create an open knowledge base for the wider museum landscape to tap into. Insights gathered in the course of the project will be shared in the form of project reports, best-practice guides and resources with other cultural institutions in Germany. Similarly, the source codes of our digital prototypes will be provided for adaptation and flexible reuse.
What we do
Each of the members implements its own sub-project. Digital prototypes that emerge from these case studies are tested in the respective museum infrastructures.
Together we evaluate and document the deployment scenarios, reuse technological developments, and analyze requirements for internal infrastructures and workflows.
A project management team headquartered at the Stiftung Preussischer Kulturbesitz (Prussian Cultural Heritage Foundation) provides advice on how to implement the individual projects, identifies thematic commonalities among sub-projects, and coordinates the knowledge transfer and the collaboration within the joint project.
The results of our work are pooled on museum4punkt0.de, our joint platform. Its content is growing along with the sub-projects. In the future, you will have access to the prototypes, reports, and project documentation here.
Learn more about our sub-projects
People in the Project
Here is an overview of the teams involved in the project. See all teams


Additional Information