Carnival – Intangible Cultural Heritage in Digital Environments
Museen der schwäbisch-alemannischen Fastnacht
How can the intangible aspects of customs be digitally experienced and knowledge of them interactively transferred? The carneval museums Fastnachtsmuseum Narrenschopf and Fasnachtsmuseum Schloss Langenstein are researching precisely this issue.
Museum Narrenschopf Bad Dürrheim and Fasnachtsmuseum Schloss Langenstein both present numerous exhibits and therefore primarily tangible artifacts related to Swabian-Alemannic Fastnacht. However, the curated offer reflects only fragments of the culture above and beyond its artifacts.
What could digitally supported strategies for learning and communication look like in small museums staffed by volunteers? Fastnacht is celebrated for a few days every year. Would digital technologies help to make the intangible facets of Fastnacht tangible and experiential all year round? In exchange with other museums of Swabian-Alemannic Fastnacht, we are exploring these issues in a joint sub-project.
The Concept: Museums as Places of Dialog and Individual Experience
In this case, we intend to devote our attention to complementary approaches. The team in Bad Dürrheim is testing formats that facilitate a collective experience of Fastnacht and the exchange between fools and non-fools with the museum as a vehicle.
Museums as facilitators of communication is also a subject for the team at Schloss Langenstein. Digitally supported and individualized information transfer and involving visitors in the act of generating meaning by means of dialog are the two focal areas. Both cognitive and affective learning and educational goals will inform the approaches.
The Virtual Museum of Fastnacht
Museum Narrenschopf is relying on the proven communication and interaction forms practiced in social media networks for implementation. In a virtual museum we plan to introduce Fastnacht exhibits in thematically related chapters. We will invite users to upload their own Fastnacht experiences in the form of images, texts, and videos to the relevant chapter, effectively reflecting them back to the museum. Supplemented by interactive formats such as a virtual Fastnacht band, we intend to stimulate an exchange among visitors.
In addition, we are creating 360 degree videos to enable visitors to experience Fastnacht all year round. The videos are available via two different presentation channels – VR goggles and a dome projection similar to that of a planetarium. This allows us to study individual vs. group reception of the same content based on larger groups of people.
"Master Brain" for Museums – Personalized Guide without BYOD and Rental Devices
The team from Schloss Langenstein is developing a prototypical interactive museum parkour. It uses a guide (master brain) system and storytelling elements to facilitate intuitive learning. Outside of a room, visitors can acquire knowledge (cognitively) that they are able to experience, reflect upon, and verify (affectively) once inside.

The planned guide system will play the role of virtual companion, detecting and supporting visitors on their journey through the museum. The visitors will not need to carry around devices; the information carriers are part of the exhibition.
At the parkour stations, the guide will enter into contact with visitors via interconnected permanently installed displays, speakers, sensors, augmented and mixed reality applications, projections, and light installations. The master brain will save input for the remaining parkour stations, recommend topics, or invite visitors to interact with it. As a virtual analysis tool, the master brain will use visitor behavior to generate statistics useful for developing future museum strategies.
Intangible Connections
As a means of making geographical relationships between mask customs and rituals visible on a comparative basis, an augmented reality app will show animated information on a previously white globe, providing visitors the opportunity to experience the information interactively.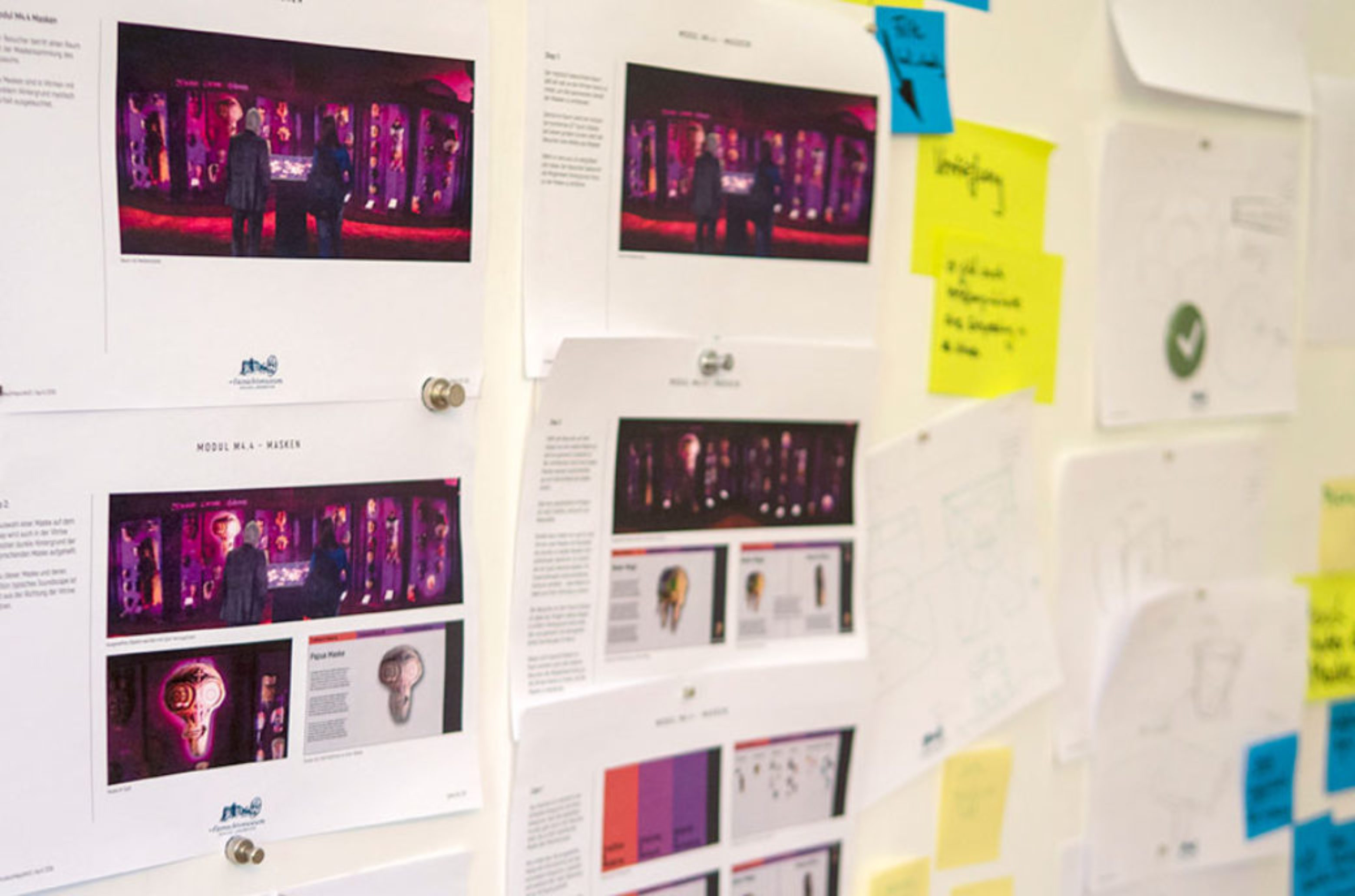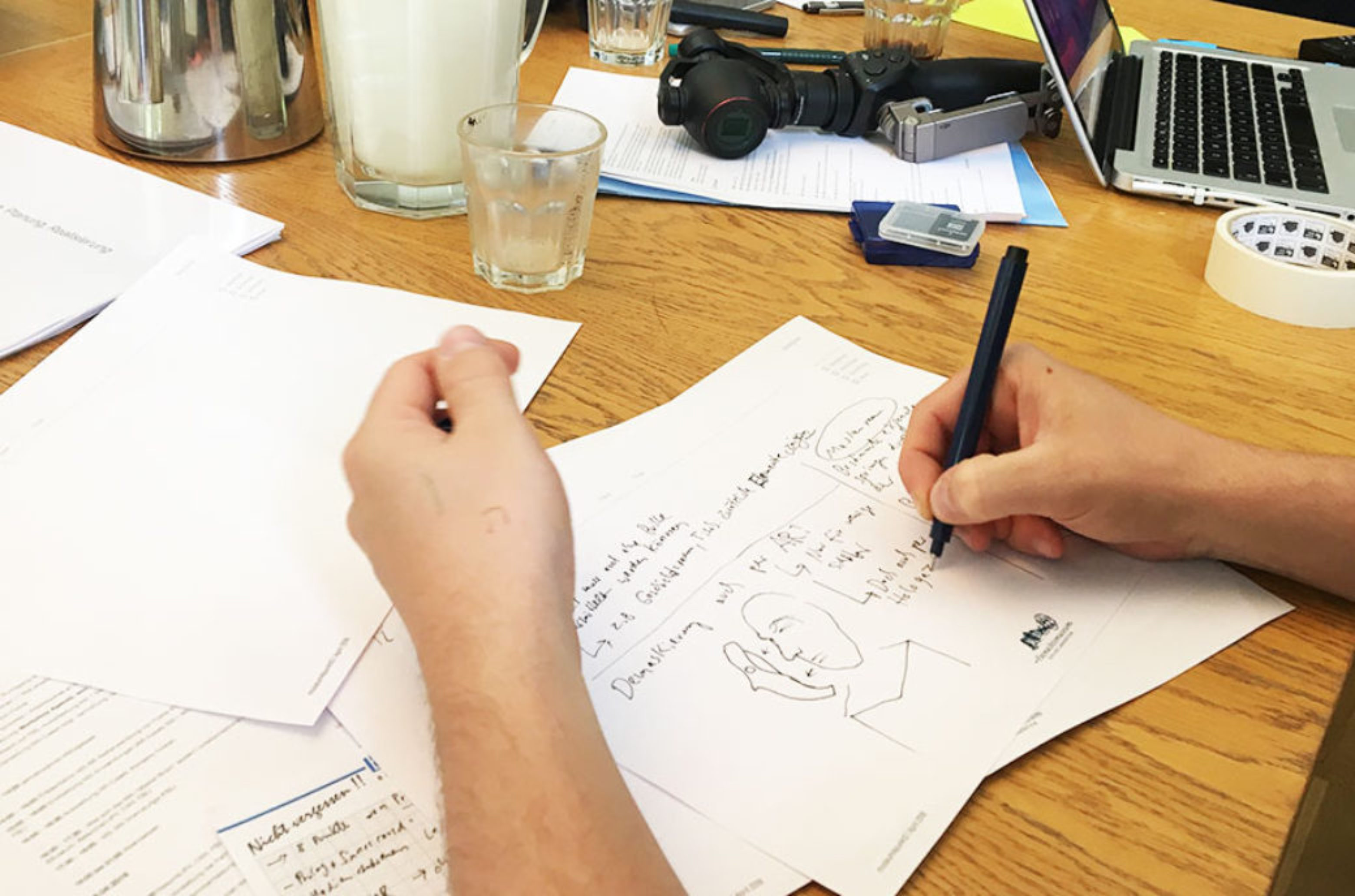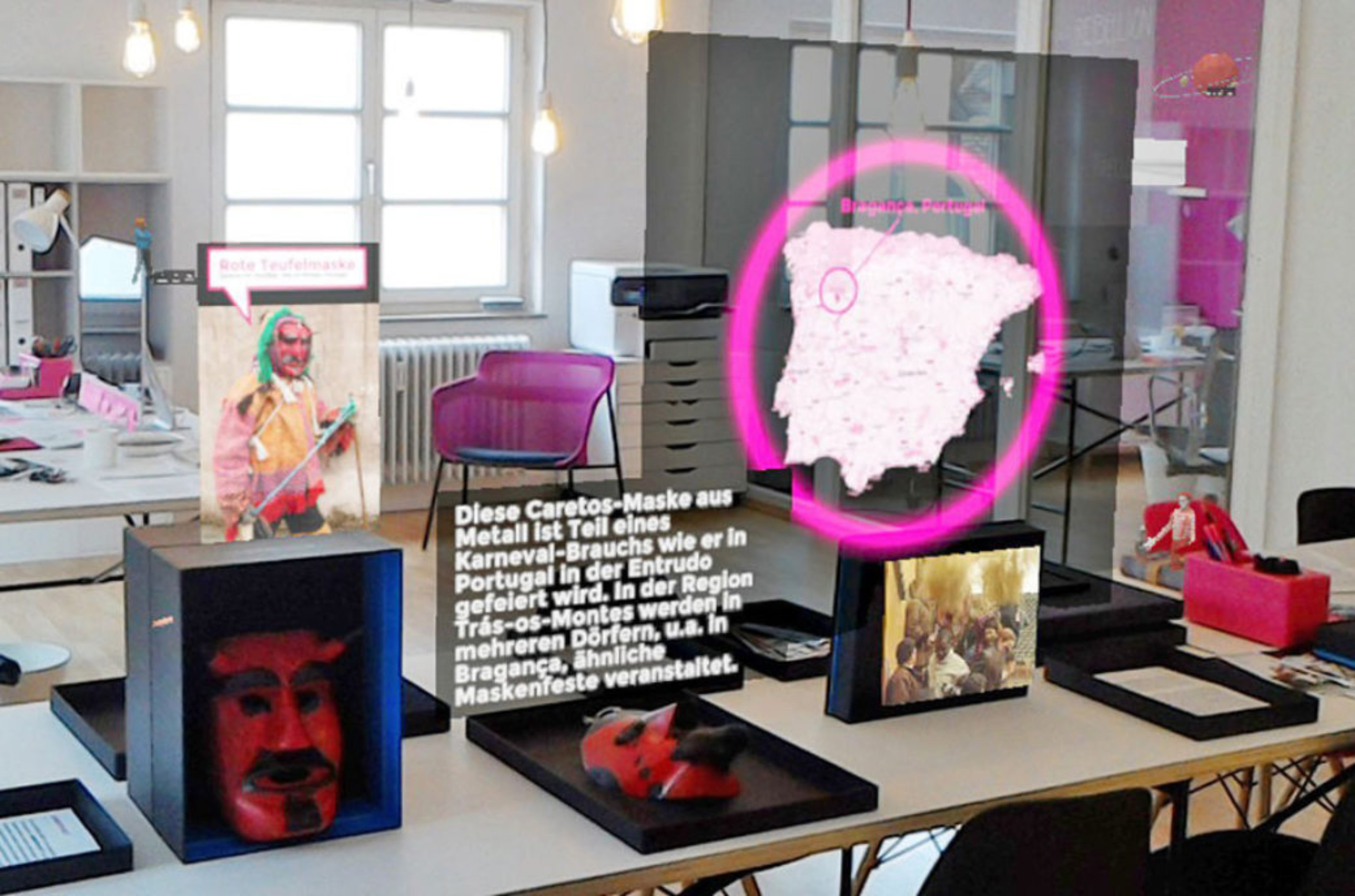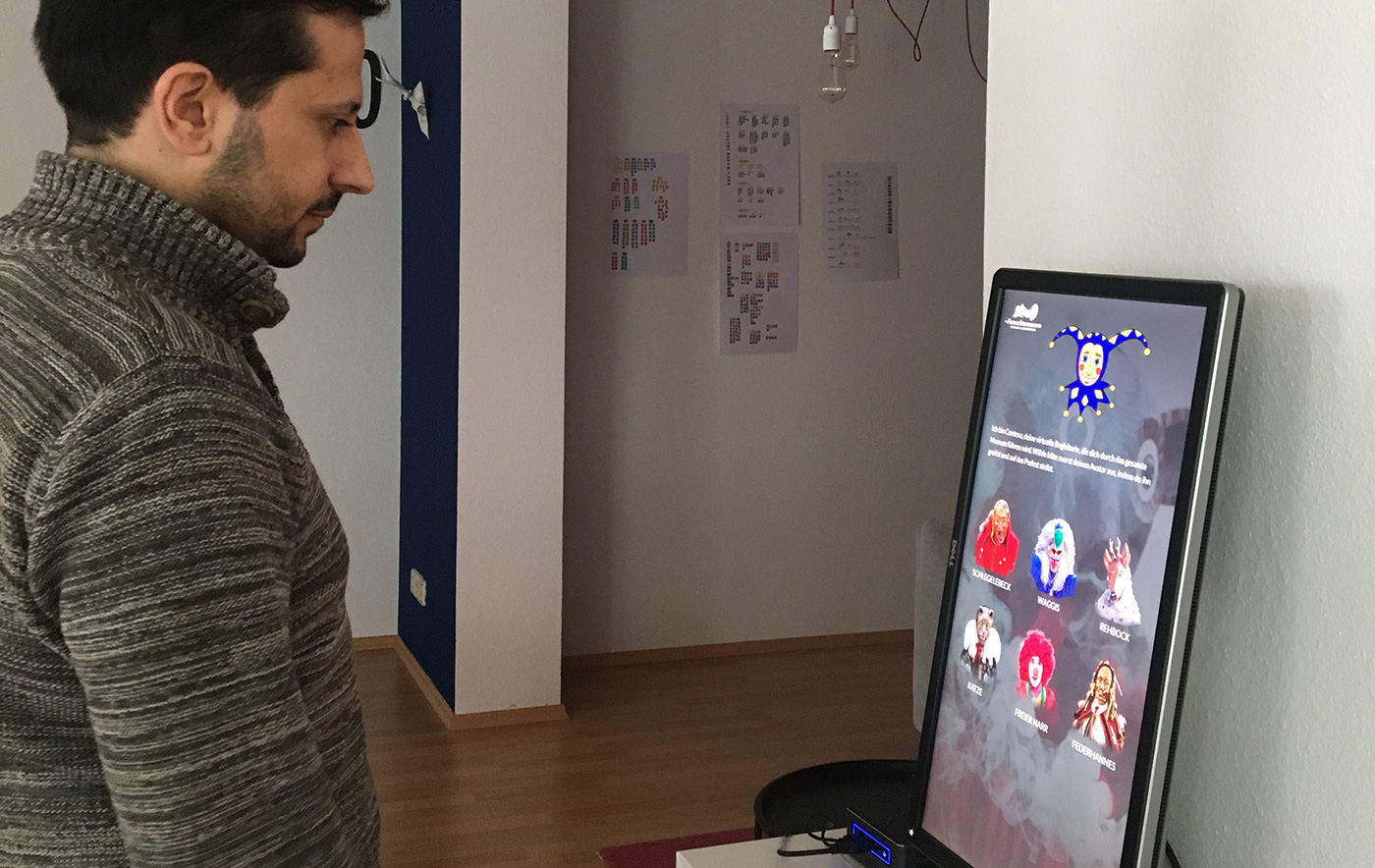 Insights for Small and Medium-sized Museums
In the development process at Museum Narrenschopf, we are using technologies that are capable of ease reuse and operation by a small staff. In this way, we intend to make it possible for small museums to apply approaches such as 360 degree video production for their own event- and experience-related recordings. For the virtual Fasnacht museum, we are adapting plug-ins from WordPress, a popular content management system, and making them available for reuse. We are creating a basic framework that can be adapted to the exhibition and outreach programs of other museums.
With its virtual guide and mixed reality applications, Fasnachtsmuseum Schloss Langenstein is developing prototypical resources that other museums can also use. The digital concept for knowledge transfer will be reflected in an interactive parkour with ten themed rooms. Hopefully, these examples will inspire other institutions to identify new approaches and concepts in the spirit of an active, dialog-based, individual, and plural museum visit.
Since we are documenting all the steps we take, others will be able to follow the course of the sub-project – from the concept development phase and testing with visitors to demo installation with instructions for installation. Changes in the project plan and failed tests will be included in the documentation to allow other institutions to use these experiences to inform their own decisions.
Sub-project team

Roland Wehrle
Sub-project lead at Museum Narrenschopf / President of the Vereinigung Schwäbisch-Alemannischer Narrenzünfte e. V.


Prof. Dr. Ullrich Dittler
Technical consultation and implementation / Professor for Interactive Media at the Faculty of Digital Media at Furtwangen University

Prof. Dr. Werner Mezger
Conception of contents / Professor for Cultural Anthropology and European Ethnology, Albert-Ludwigs-University Freiburg i. Br.; Director of the Institute for Cultural Anthropology and European Ethnology

Artur Fuss
Research assistant (Museum Narrenschopf)

Ingeborg Rüth
Archivist / Supervisor of the central archive of the VSAN at Museum Narrenschopf

Rainer Hespeler
Sub-project lead at Fasnachtsmuseum Schloss Langenstein / 2. Chairman of the Managing Board of Fasnachtsmuseum Schloss Langenstein


Sascha Lorenz
Software architecture
Additional information